Several Years ago Kathy and Dennis Boos gave us a print of Larry Veeder's painting of Barn Bluff. The image below shows a scanned central portion of Larry's print.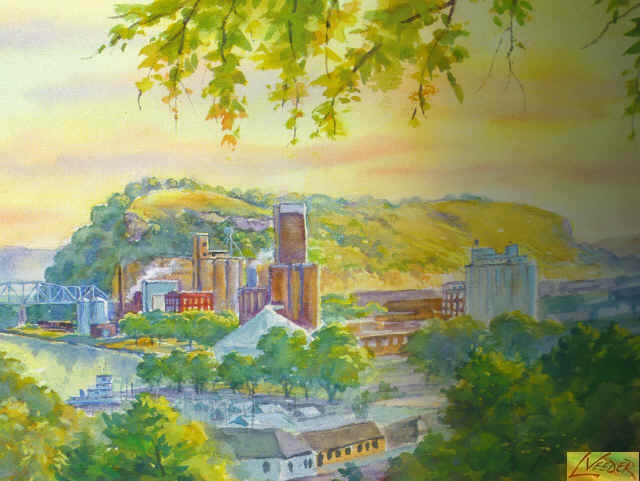 Barn Bluff Topography

From the US Geological Survey Red Wing Quadrangle, Contour Interval 20 Feet. Study the 800 and 700 ft. contours near the letters Res. Follow the 800 ft. contour to the left (west). Notice what happens to the 20 ft. contours under the letters BM 719. They join and become one line. Why? They are representing a vertical surface or one that is nearly vertical. You are looking at the Red Wing Fault!!
Geologic Map Of Minnesota - St. Paul Sheet
Contour Interval 50 Feet. The blue areas identify Ordovician rocks, in particular, Oneota Dolomite. Yellow rocks are Cambrian. At the fault, the St. Lawrence Formation overlies the Franconia Sandstone. Please do not climb, scramble, hack, or collect Franconia rocks at this location. They are delicate Geological Treasures.
The black line with D above and U below identifies the fault. Younger Ordovician rocks on the D side are juxtaposed against older Cambrian rocks on the U side.