There are four rock formations in Barn Bluff. This class focuses on learning how to recognize these four rocks. Meetings are on four Tuesdays, beginning February 8, 2005 and ending March 1, 2005. Classes take place at Twin Bluff School, between 4:30 pm and 5:30 pm. As a matter of strict policy, no student will visit Barn Bluff in the period from February 1, 2005 through March 31, 2005. At other times, all signs posted concerning Barn Bluff trail access will be observed.
The set of four classes is being coordinated by Joyce Peterson. Joyce teaches at Burnside Elementary School. Students in 4th and 5th grades are being invited to attend.
The rock formations making up Barn Bluff are: Franconia greensand, St. Lawrence siltstone, Jordan sandstone, and Oneota dolomite. As you would expect, the Franconia is mainly green colored.
I am going to ask Joyce to explain how a fossil cast of a worm burrow might be formed. It is easy to lapse into the practice of referring to details on a rock as worm burrows when they are in fact casts of worm burrows.

Joyce will be responsible for collecting palm-size specimens for students. Baggies with several tablespoons of loose Franconia greensand are good choices. On February 8, each student is to practice studying a Franconia specimen using a 10X handlens.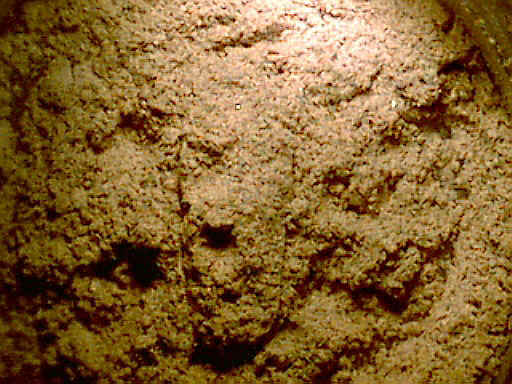 This image was taken with a digital microscope at 10X power. There is a warm burrow cast fragment in the view.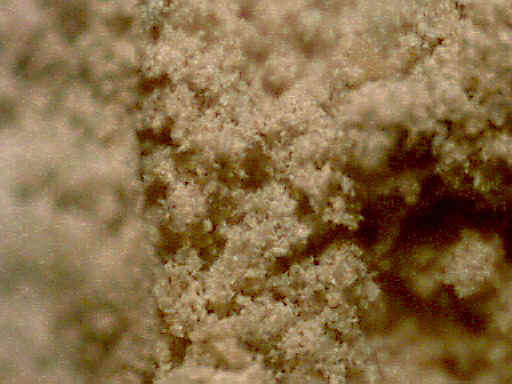 For the online course, additional images were prepared, at 60X and 200X.
Here the
magnific-
ation is 60X.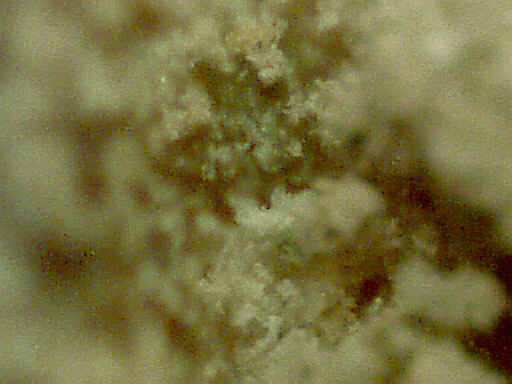 Green glauconite particles can be seen. 200X.