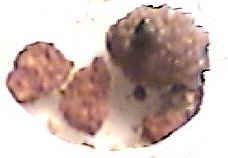 Two of the three objects shown are to be examined. They are fragments of reddish brown sandstone. The sandstone is called the Iron Hill member of the Windrow formation. Remnants of original deposits can be found on top of bluffs or lands at relatively high elevations in southeast Minnesota.
Iron Hill rock specimens are found near our home. Neighbors collect them for landscaping purposes.
I used a digital microscope with USB connection to my desktop computer to simulate using a 10X hand lens.