There are four rock formations in Barn Bluff. This class focuses on learning how to recognize these four rocks. Meetings are on four Tuesdays, beginning February 8, 2005 and ending March 1, 2005. Classes take place at Twin Bluff School, between 4:30 pm and 5:30 pm. As a matter of strict policy, no student will visit Barn Bluff in the period from February 1, 2005 through March 31, 2005. At other times, all signs posted concerning Barn Bluff trail access will be observed.
The set of four classes is being coordinated by Joyce Peterson. Joyce teaches at Burnside Elementary School. Students in 4th and 5th grades are being invited to attend.
The rock formations making up Barn Bluff are: Franconia greensand, St. Lawrence siltstone, Jordan sandstone, and Oneota dolomite.
The Oneota dolostone is a source of cherts. Some may be observed at weathering surfaces and others have have weathered free of the host rock. Occasionally oolites may be seen to be main components of the chert.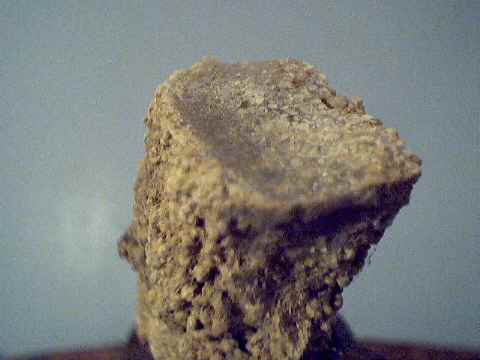 .
.
.
.
.

This is a crooked chert column, 3 cm high with 1 cm by 2 cm cross section.
.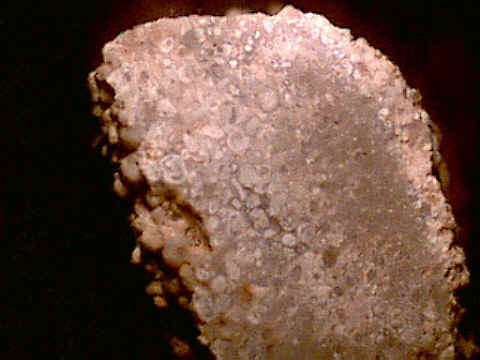 Mag 10X. Notice the oolites vary in size.
On Feb. 15/05. The mother, Holli Streff, of one student brought a boulder to class. She told me her family is finding agates on their property. The boulder is roughly 13x8x7 inches in size. It weighs 21 lbs. Holli loaned me the boulder to study for the Feb. 22/05 class.
The boulder has an irregular shape. Think of it as having a weathered cylindrical portion, and four fracture surfaces. The fracture surfaces show banding. .
.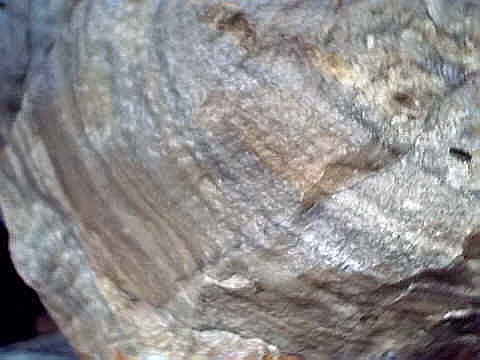 A fractured surface has very smooth portions. They feel as though they have been polished. The surface is so hard the tip of a VICTORINOX knife blade cannot be used to make a scratch. The boulder is siliceous.
The cylindrical portion has reddish brown portions. At first glance I was reminded of boulders from local Cretaceous Windrow formation, Iron Hill member. Usually the Iron Hill material consists of coarse sand grains. On the contrary, ooliths are prominent in the reddish brown material of Holli Streff's boulder.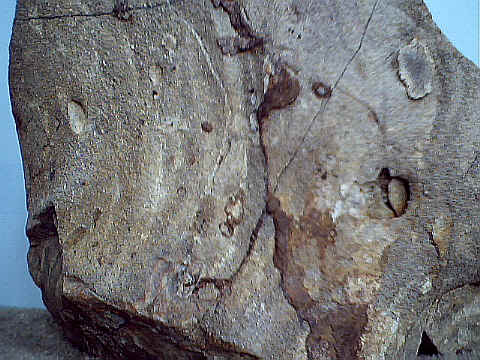 Things really get interesting when a weathered or fractured surface is examined at 10X or 60X.
.
.
.
.
.

Mag 10X. Weathered surface. Notice how regular the ooliths are in size and shape. Now see what I think might be holes.
Did organisms live in the ooliths?I recommend that you read a paragraph on lithic properties of Prairie du Chien formation cherts (in Shakopee and Oneota dolostone members) with special reference to origins of siliceous oolites. .
.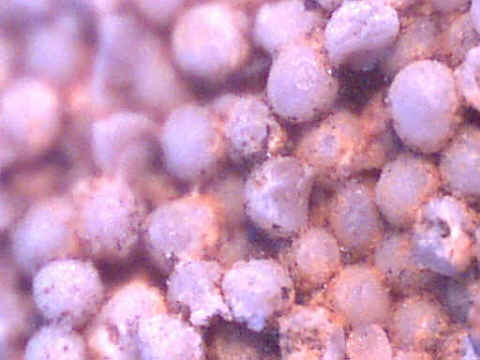 Mag 60X.
The microscope was hand held in obtaining the oolite images. I should have the patience to fix mount the microscope and probe a hole with a tiny steel pick while at 60X and 200X.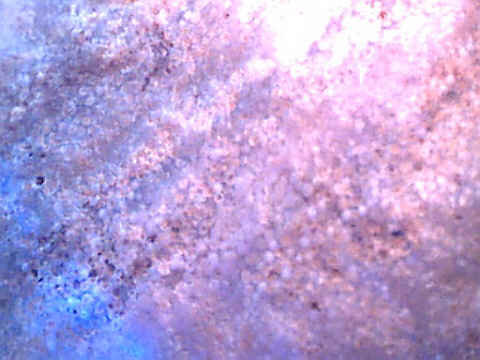 Mag 10X.
Smooth fractured surface.
In places, ooliths seem to be concentrated in a band. .
.
.
.

Mag 60X.
Smooth surface.
Iron bearing or ferruginous ooliths.
.
.
.
.
.
.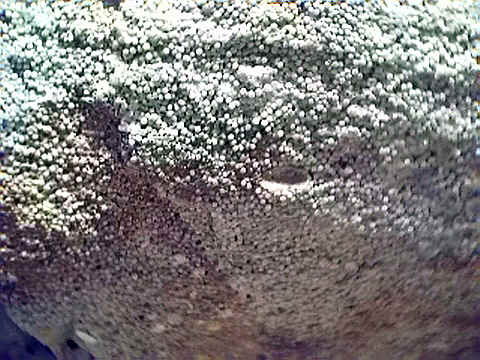 On Feb. 12/05, I ordered a used Intel PC Camera Pack through the auspices of Amazon. It arrived on Feb. 17/05. It attaches to a USB port and can be focused to a distance as close as one inch. .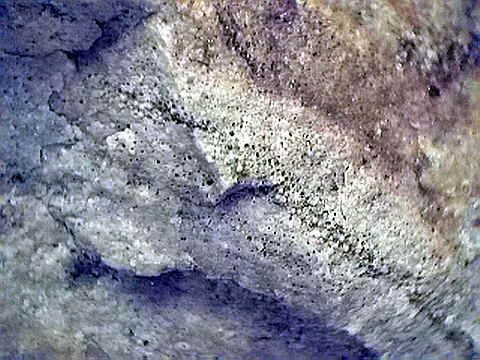 In the event, I ever teach an online introductory geology course the Intel microscope and Pro cameras will be super aids.