There are four rock formations in Barn Bluff. This class focuses on learning how to recognize these four rocks. Meetings are on four Tuesdays, beginning February 8, 2005 and ending March 1, 2005. Classes take place at Twin Bluff School, between 4:30 pm and 5:30 pm. As a matter of strict policy, no student will visit Barn Bluff in the period from February 1, 2005 through March 31, 2005. At other times, all signs posted concerning Barn Bluff trail access will be observed.
The set of four classes is being coordinated by Joyce Peterson. Joyce teaches at Burnside Elementary School. Students in 4th and 5th grades are being invited to attend.
The rock formations making up Barn Bluff are: Franconia greensand, St. Lawrence siltstone, Jordan sandstone, and Oneota dolomite.
Along Pioneer Rd. between the back of Twin Bluff School yard and a Goodhue County Public Works Building, a construction project is underway. Close to the Twin Bluff yard, there is a bank of loose sand and rocks. The bank is either made up of St. Lawrence components or materials much like those in St. Lawrence siltstone. I collected a bucket of the material from the Pioneer Rd. site. A common type of kitchen sieve was used to separate silt from rock fragments. Most of the fragments are siltstone.
The 4th and 5th grade students are to practice studying loose silt at 10X, then examine the rock fragments to see if they agree that many are siltstone. At some other locations, the St. Lawrence formation is dolostone.

In the image at left, a scale with millimeter divisions is shown. Mag 10X.
.
.
.
.
.
.
.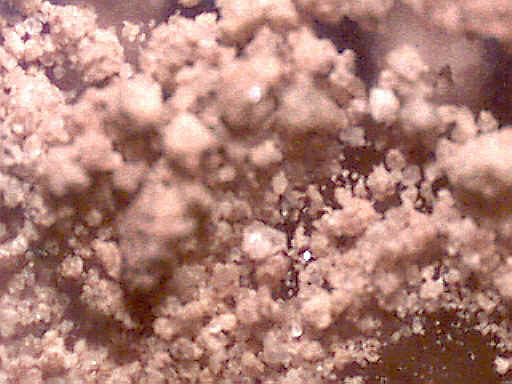 Here millimeter divisions can be seen indistinctly below silt grains. Mag 60X.
.
.
.
.
.
.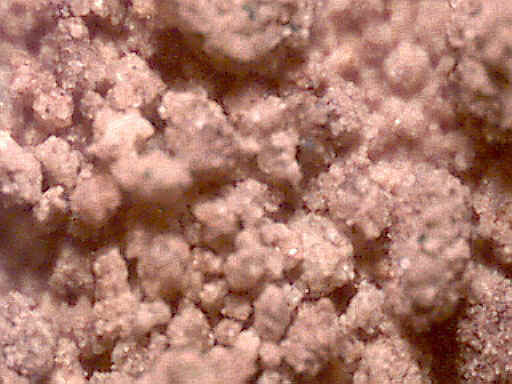 .
.
.
Scale was removed. Mag 60X.
.
.
.
.
.
.
.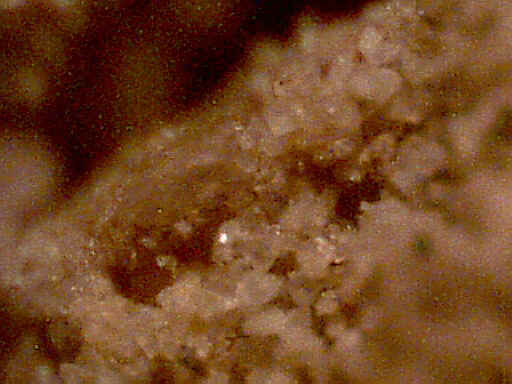 Some green glauconite particles can be seen. 200X.