There are four rock formations in Barn Bluff. This class focuses on learning how to recognize these four rocks. Meetings are on four Tuesdays, beginning February 8, 2005 and ending March 1, 2005. Classes take place at Twin Bluff School, between 4:30 pm and 5:30 pm. As a matter of strict policy, no student will visit Barn Bluff in the period from February 1, 2005 through March 31, 2005. At other times, all signs posted concerning Barn Bluff trail access will be observed.
The set of four classes is being coordinated by Joyce Peterson. Joyce teaches at Burnside Elementary School. Students in 4th and 5th grades are being invited to attend.
The rock formations making up Barn Bluff are: Franconia greensand, St. Lawrence siltstone, Jordan sandstone, and Oneota dolomite.
Imagine you are in a car going down the Highway 58 hill away from the Pioneer Road intersection toward the foot of the hill. Notice a rock cut on your right hand side. You first see Oneota dolostone and then you see Jordan sandstone under the dolostone.
The 4th and 5th grade students are to practice studying loose Oneota dolostone at 10X, and then examine the same specimen using a 10X microscope. Students have access to Oneota dolostone rock which has clusters of quartz crystals known as amethysts. They are small, but can be distinguished with aid of a handlens.
Mag 60X.
The view of amethysts at left shows three sided facets. The facets are described as being trigonal.
The crystals are strongly intergrown in this example.
Use DotColor 3 to define the purple color of the crystals. In the inset you see the RGB values are AE5B90.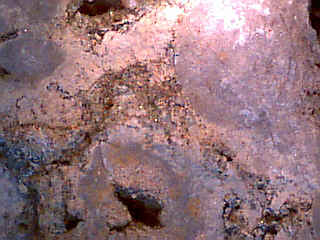 On left, one of Michael's rocks. On Feb.15/05, 4th/5th grade students examine this rock with aid of a 10X handlens. The image at right is at 10X.

For approximately 450 million years the Oneota dolostone was exposed to weathering. When Pine Ridge Ave. in Red Wing was being developed for home building, a deep trench was excavated to install water and sewer lines. Drilling and blasting was required to make the trench. Large dolostone boulders were excavated. I asked a machine operator to remove three large boulders to a corner of our lot, and arrange them in a way that would appeal to children. A boy named Michael lived next door to us. He often ran over to the large boulders, climbed one, and arranged rocks for play. We live on the second level of our home. We could observe Michael shifting the rocks around, and listen to him talk to them as he did so. The large boulder has become "Michael's boulder".
Mag 60X.


A few years after Michael's family moved away, two sisters began playing on the boulder. They use Michael's rocks to make an imaginary dining arrangement. Behind the water bottle there is a flat, reddish brown sandstone rock. The girls scraped sand from the rock and poured the sand into a dish to serve as soup.
These images show Oneota two chert specimens found near our home. They are each 2 inches high. We call them "seal" and "dog".

Much of the surface of the Oneota dolostone in southeast Minnesota was exposed to weathering for 450 million years. During our daily walks we look for unusual features on rocks that are not too heavy to carry home. Often what we consider to be a special rock is made part of our home decor, often as a bookend.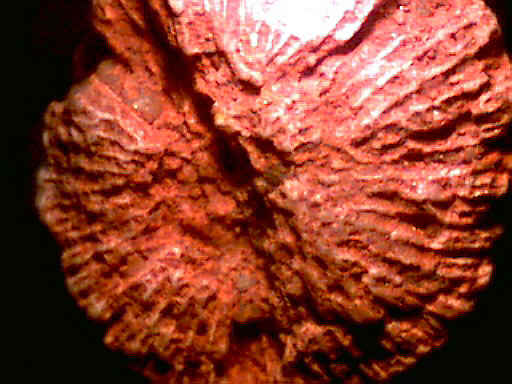 Mag 10X, dia 2.1 cm.
This is the upper end of a fossil coral. We think geologists would identify it as a horn coral, of a type called rugose. We found it loose among other Oneota fragments.
Notice the rounded quartz grains embedded in the dolomite.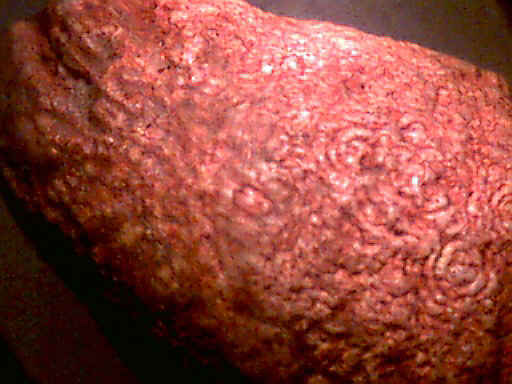 Side view, 10X.
It would be delightful to hear an invertebrate paleontologist discuss these two images of the coral specimen.